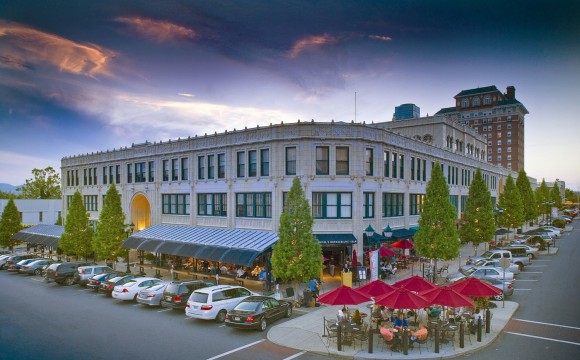 Waynesville's convenient location makes it easy to take in these nearby attractions!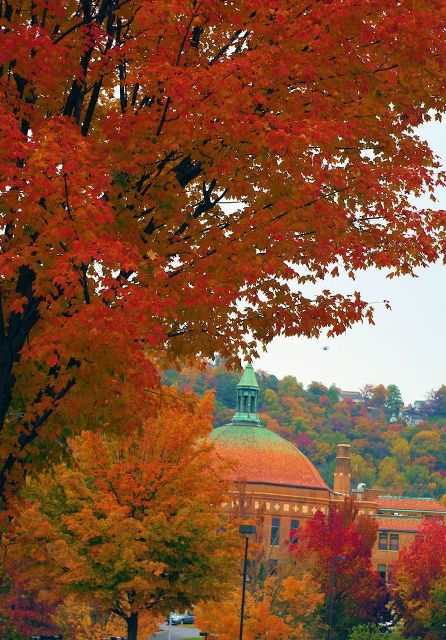 Downtown Asheville is filled with colorful sights, historic buildings and spectacular Art Deco architecture. The streets seem to hum with creative energy, and so many of the people are friendly and helpful, with an upbeat mood and can-do attitude. Music is everywhere and the theatre scene is vibrant. Fabulous cafes and fine dining restaurants offer tantalizing variety, with plenty of organic, vegetarian and artisan selections for every taste and budget. Explore the bookstores, shops, live music and over 30 art galleries while you're there.
www.ashevilledowntown.org/
The Grove Arcade, for example, is an architectural wonder built in the 1920s with eclectic boutiques, dining for every palate, craft exhibits and local artists' galleries. The beautifully restored building offers live music, tours and the outdoor portico market pictured at left.    
www.grovearcade.com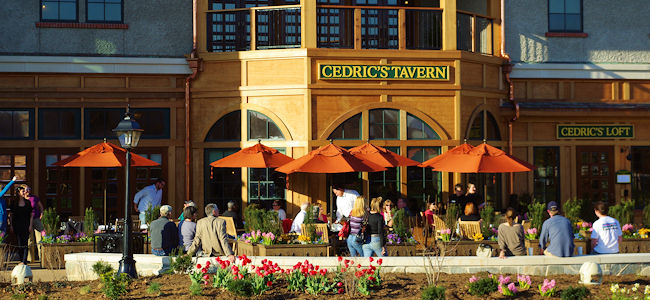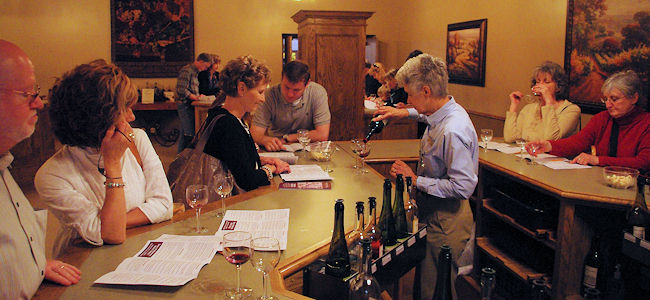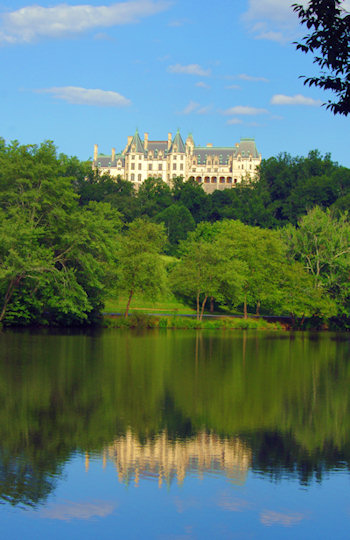 Share the wonder of the Biltmore Estate, the largest privately owned mansion in America, with a priceless collection of arts and antiques original to the Vanderbilt home. A National Historic Landmark and one of the country's top architectural wonders, the home in the Blue Ridge Mountains boasts 250 rooms, historic exhibits, magnificent century-old gardens and a charming winery. Explore the estate's breathtaking 8,000-acre backyard, a peaceful escape for horseback riding and rafting. Enjoy guided tours and see the exquisite Tiffany stained-glass lamp exhibit. Antler Hill Village connects the estate's present and past, providing a relaxing place for dining, shopping, historical exhibit and people watching. Antler Hill Village includes the entrance to the Winery and adjacent Antler Hill Farm.

Biltmore Estate Winery...At the winery, enjoy a guided tour and sample Biltmore Estate wines in the free Tasting Room. Browse the Wine Shop. The Bistro Restaurant is an excellent choice for dinner, with its welcoming European atmosphere. Other culinary activities include cooking demonstrations, seminars, guest chef programs, introductory wine classes and daylong cooking classes featuring the estate's own chefs.     
www.Biltmore.com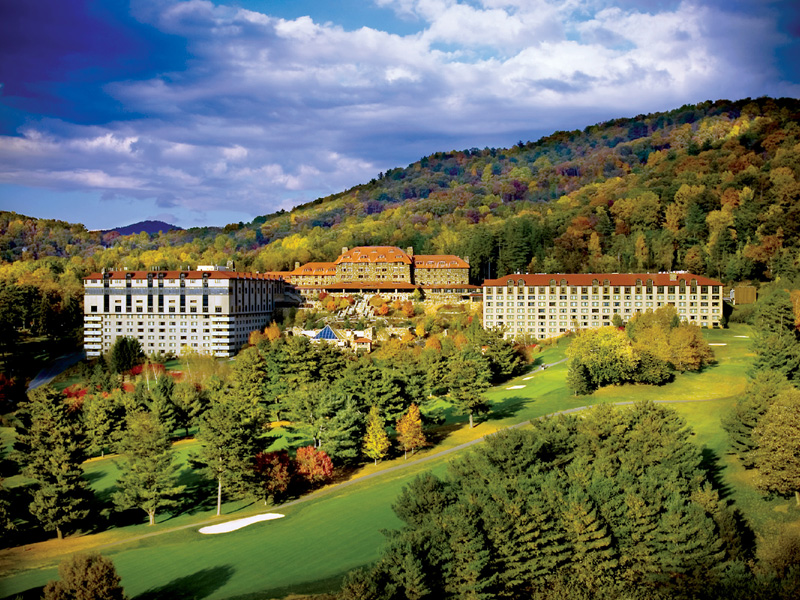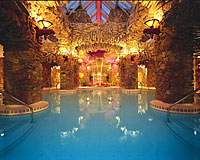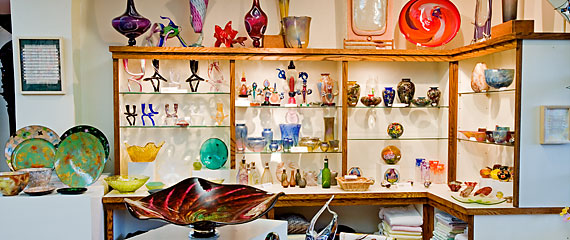 Grove Park Inn & Spa  Experience over 100 years of history steeped in luxury at The Omni Grove Park Inn. The resort has undergone a $25 million transformation to bring guests spaces that are "built for the ages" with downhome comforts, modern technologies and classic conveniences.  
www.groveparkinn.com
Breathe in clean mountain air while playing a challenging 18-hole round of golf on our Donald Ross-designed course, or take sanctuary at the 43,000-square-foot subterranean spa. Diners with sophisticated palates will savor healthy and hearty meals at some of the finest restaurants in Asheville while imbibing more than 600 wines or specialty cocktails in an atmosphere of relaxed refinement. Indulge in a luxurious treatment at our award-winning spa, voted among the top 20 resort spas in the United States. The Omni Grove Park Inn is just a short drive from plenty of downtown shopping, beautiful state parks and engaging performing arts venues.

Grovewood Gallery

Located next to The Omni Grove Park Inn, Grovewood Gallery showcases 9,000 square-feet of handmade American crafts by more than 500 artists. The gallery is noted for its impressive second-floor studio furniture collection and outdoor sculpture gardens. The property also includes The Estes-Winn Antique Car Museum, The North Carolina Homespun Museum, working artists' studios and the Grovewood Café.

Open daily. 111 Grovewood Road (across from the Vanderbilt Wing).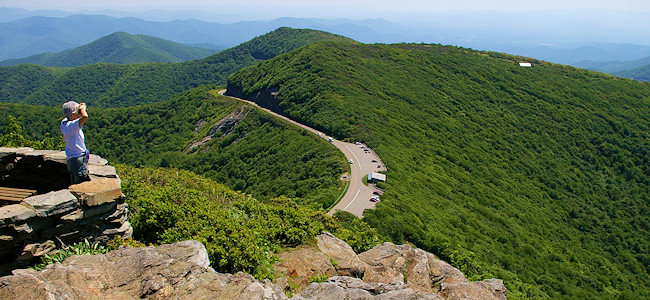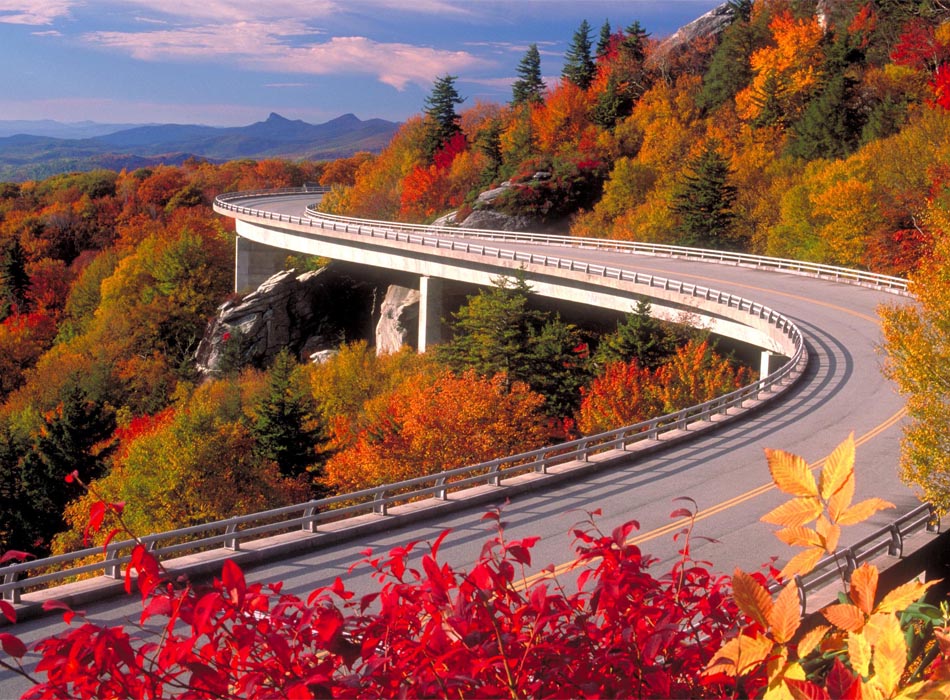 Blue Ridge Parkway Outstanding scenery and recreational opportunities make the Blue Ridge Parkway one of the most visited sections of the National Park System.  Split-rail fences, old farmsteads, mountain meadows and scenic overlooks with endless vistas give the Parkway it's nickname of "America's Favorite Drive". It connects The Great Smoky Mountains National Park in North Carolina to the Shenandoah National Park in Virginia. Its 469-mile stretch showcases some of America's best natural beauty and rich cultural heritage, including Cherokee traditions, music and crafts.    
www.blueridgeparkway.org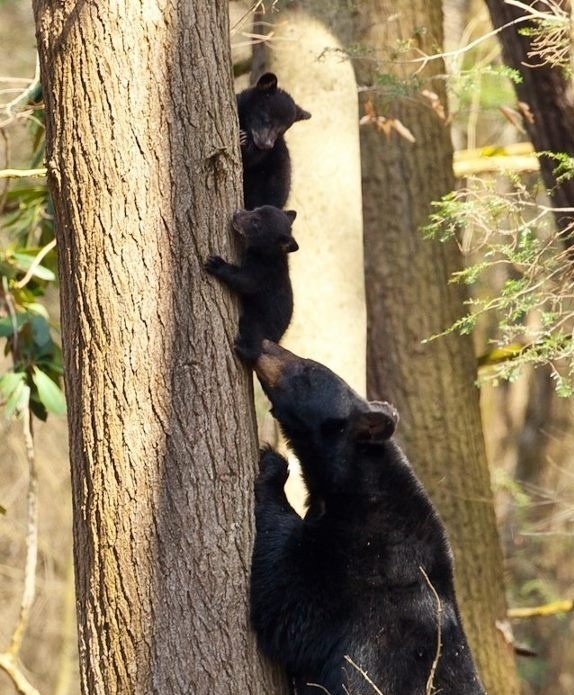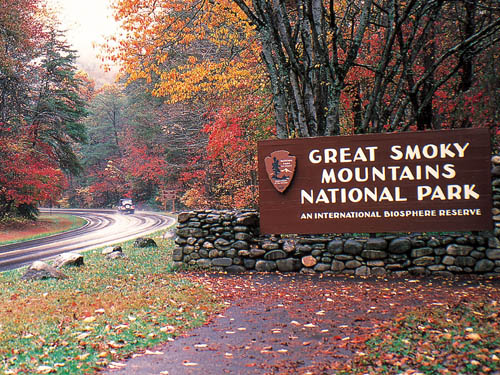 The Great Smoky Mountains National Park

This park touches both North Carolina and Tennessee and is a peaceful escape for cycling, hiking, climbing, fishing, backpacking, horseback riding, picnicking, wildlife viewing and auto touring. Explore ancient mountains, majestic forests, tall waterfalls, tree-dotted ridges, endless hiking and biking trails, historic areas and scenic overlooks with jaw-dropping vistas. Go horseback riding, fish in rushing streams and count the wildflowers. Whether you crave a challenging hike to a mountain crest or the serenity of sunset, The Great Smoky Mountains National Park is a refuge for the soul.       
www.nps.gov/grsm/index.htm
The Great Smoky Mountains National Park straddles the Tennessee/North Carolina border for about 70 miles, covering 521,000 acres. There are more than 300 streams, flowing over 700 miles. More than 50 types of mammals live in the park, including the popular black bear. Today, the mountains have over 4,000 species of plant life, 65 mammals, 200 birds, 70 fish, and 80 reptiles and amphibians.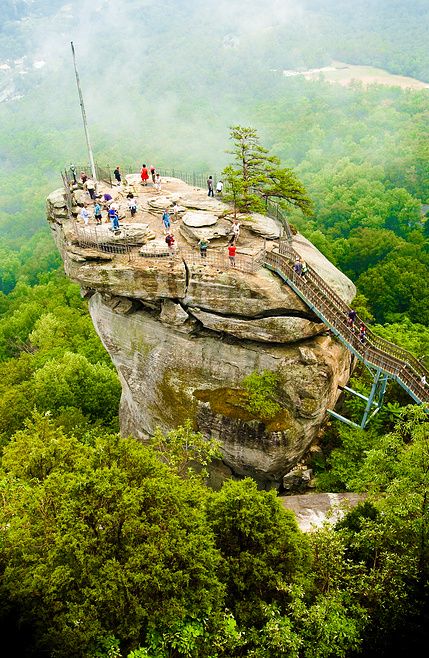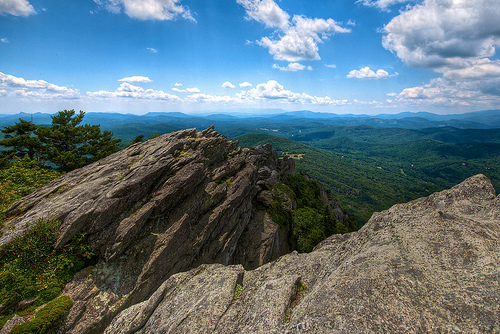 Chimney Rock State Park

Part of the Blue Ridge National Heritage Area, Chimney Rock State Park is a beautiful destination for outdoor adventure. Located 25 miles southeast of Asheville, North Carolina, it's a mountain getaway with panoramic views, scenic hiking trails, a lake, rare plants and animals, and a 400-foot waterfall.

Breathe fresh mountain air, trek along five hiking trails, and bask in the cool mist of Hickory Nut Falls, one of the most dramatic waterfalls in North Carolina.

Surrounded by majestic mountains, Lake Lure is perfect for swimming, boating, fishing, cruising, and relaxing on the beach.

Grandfather Mountain State Park is one of the most popular tourist destinations in western North Carolina. As the highest peak in the Blue Ridge Mountains, it has been a destination for naturalist for over 200 years.(Elevation of 5,946 ft) . It's about 80 feet from the bottom of the bridge to the bottom of the gorge.  It is the only private park in the world designated by the United Nations as an International Biospere Reserve. (encompassing many different  species of plants and wildlife that are rare and almost extinct.)     
www.ncparks.gov/Visit/parks/grmo/main.php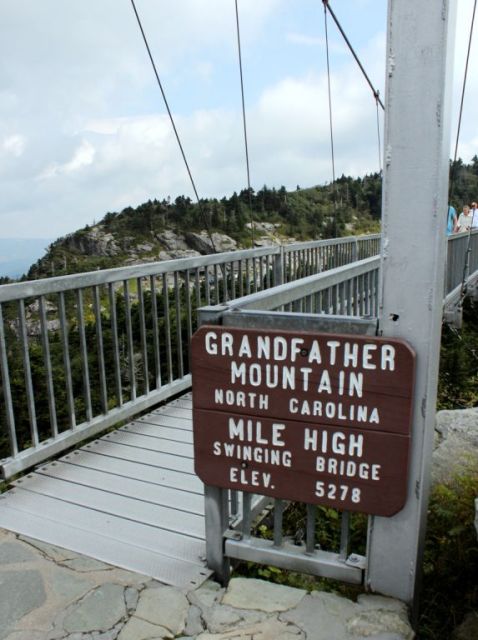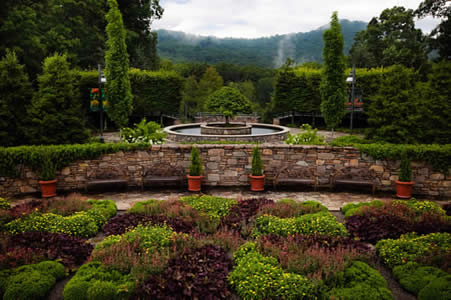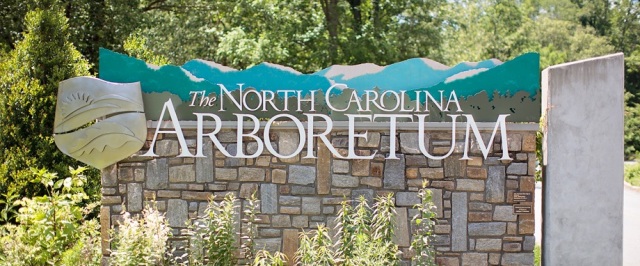 North Carolina Arboretum

Nestled in one of the most botanically diverse and beautiful natural settings in America, the Arboretum offers engaging outdoor and indoor exhibits. Explore over 400 acres of natural sanctuary with beautiful gardens, 10 miles of hiking and biking trails, and engaging indoor and outdoor plant and flower exhibits. See one of the most unique bonsai collections in the country at the Bonsai Exhibition Garden.

Harrah's Cherokee Casino

Enjoy gaming action, entertainment, dining and mountain golf at Harrah's Cherokee Casino & Hotel. Nestled at the edge of the Great Smoky Mountains National Park, Harrah's Cherokee Casino features digital Blackjack and Baccarat tables, video poker slots and a Poker Room. See concerts and live music in the Cherokee Events Center and Essence Lounge. Enjoy dining at Paula Dean's Kitchen and Ruth's Chris Steak House. Designed by Robert Trent Jones II, Sequoyah National Golf Club is a spectacular 72-par course with breathtaking views.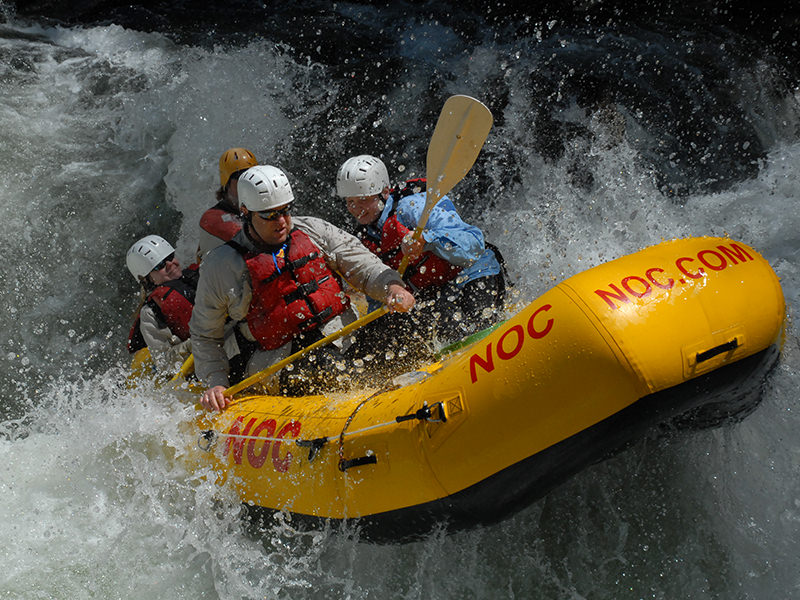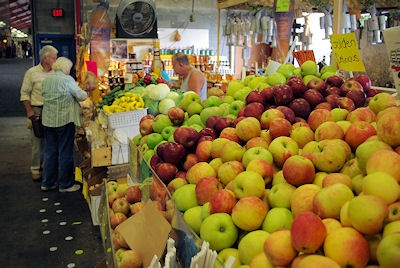 Nantahala Outdoor Center

Recognized as "one of the best outfitters on earth" by National Geographic Adventure, call them for:

• Guided rafting trips on seven southeastern rivers

• Guided hikes in Blue Ridge Mountains

• Guided fly-fishing and kayak fishing trips

• Zip lines and canopy tours

• Kayaking lessons and tours

• Mountain bike rentals

• Asheville biking, hiking and paddling information

Farmer's Markets in Waynesville & Asheville

Near downtown Asheville, the Western North Carolina Farmer's Market is on a thirty-six-acre site with a beautiful panoramic view of the mountains. The market is open all year round, and seven days a week. The retail area features displays of high quality fruits and vegetables, mountain crafts, jams, jellies, preserves, sourwood honey, and dozens of other farm fresh items. Jesse Israel & Sons Garden and Nursery Center feature top quality plants, trees, and shrubs. You will enjoy strolling through their colorful facility that includes a greenhouse full of tropical plants, ponds full of water plants, bonsai, and a forty-foot waterfall.

The Great Smoky Mountain Railroad

The Great Smoky Mountain Railroad starts in Bryson City and takes you through beautiful western North Carolina into river gorges, across lush valleys and through tunnels carved out of mountains. Travel in style in a 1940s-era bar, lounge and dinner car. First Class passengers receive an all-inclusive lunch served by the car's private attendant and a refillable souvenir tumbler. Book the outdoor car and pack a picnic lunch. Excursions are offered year-round and many kid-friendly events are held throughout the year like Thomas the Train week, Peanut's Great Pumpkin Express, and the Polar Express - All Aboard for a great time!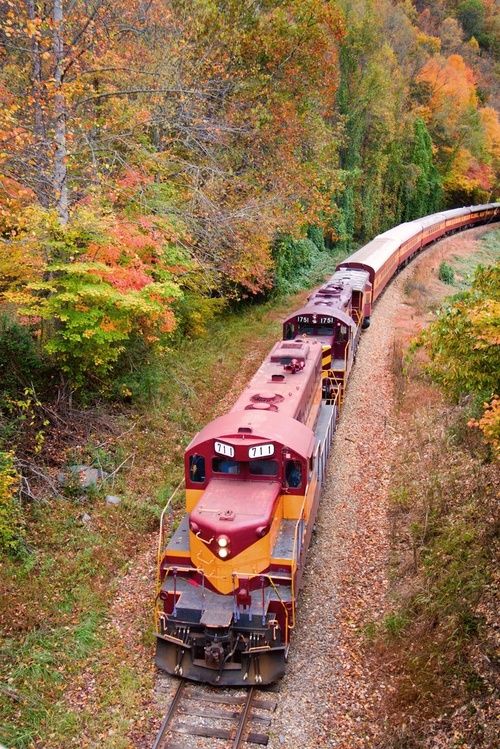 Carl Sandburg Home

Carl Sandburg, called " A Poet of the People", provided a popular voice for the American people of the twentieth century and still speaks to us through his words, songs and the beauty and serenity of Carl Sandburg Home National Historic Site.

Located in Flat Rock, near Hendersonville, (about 30 miles south of downtown Asheville), is the fascinating home of Sandburg. It was designated as a National Historic Site in 1968 to honor Carl Sandburg's compelling collection of stories about the American people; their plights, struggles, joys and hopes as told through Sandburg's poetry, prose, journalism and biography.

Taking a guided tour of the historic Carl Sandburg Home with over 65,000 artifacts on display is an insightful glimpse into the lives of the Sandburg family.